Johann Hinrich Fehrs
Maren
Johann Hinrich Fehrs
---
<< zurück
weiter >>
KAPITTEL ACHT
De Harvst weer, as de Sommer, prächtig un schöön. De Natuur harr eer buntes Kleed antrocken, un de Spinn weer still in Arbeit, eer dar en finen Sleier över to weben. De Heben hooch un blau, de Wolken groot, wittblank, mit en sülvern Rand, de Luft noch warm un klaar as Glas. Aver morgens weren Blatt un Halm voller Daudruppens, as harrn se in de Nacht heemlich weent. Haadbaar un Weewolk weren al weg na 't Süden, aver de Swolk seil noch in 't schöne Blau, un de Krammsvagel floog in Schoven över 't Feld un söch Holt un Knicken af na de roden Quitschenberen un de swartblanken Druben an den Ellhorn.
So 'n klare, stille Harvstdag is wunnerbar fierlich. Oog un Oor köönt noch mal so wiet recken as sünst, un dat Hart kann sik volldrinken von Sünnschien un Schöönheit, wovon de Welt nu rein voll is. Aver denn kommt ok en bang Lengen över uns. De Kinnerjaren fallt uns wedder in mit Vader un Moder, Broder un Swester, un Gesichter seet sik na uns üm, de uns mal dat Hart warm maakt hebbt – wo sünd se hin? Verweit, verstreut, un wat dar nableben, is oolt un olmig – en Stormwind, un allens, wat Sommertiet un Leben uns noch laten hett, is begraben un verstaben, un wi darto.
So'n Gedanken müch Doortjn Holm woll hebben, as se ünner eren geelbunten Barkenboom stunn un, de Hand as en Schirm över de Ogen, hindal seeg in 't wide lurige Feld! Dat ole Gesicht weer fierlich eernst, as stunn se vör en apen Sarg, ut 'n Mund keem en lises Süüfzen, un eer brunen truhartigen Ogen lüchen eerst wedder fründlich op, as se sik na en lichten Schritt ümsegen. »Maria!« reep se, »sü, dat Du mal wedder kommst! Ik heff al lang op Di luurt – dat Öller is eensam.«
»Se doch woll nich, Doortjn Holm«, meen Maria.
»Eensam un alleen! – Aver nu komm rin, de Kaffiketel steit al op 'n Disch – ik leep darvon af, wiel ik noch gau mal do Welt in Sünnschien seen wull. Bliffst doch en Stunn bi mi?«
»Geern, heff mien Neitüüch mitbrööcht«, see Maria ründlich.
Se gungen langsam na de lütt Stuuv, un bald weren Hand un Mund in 'n besten Tog.
»Dar hest mal en smucke Roos an Dinen Bossen, Maria – woll von den Leutnant?« froog Doortjn mit plietsche Ogen.
»Nee, nee, dütmal nich, de Roos is von Abel Lahann; se wull afsluuts, ik schull eer nemen un dregen.«
Doortjn grien. »Dat klingt jo, as wenn 't en swaar Last weert«
»Ik kann dat ool Minsch egentlich ni recht utstaan, mi dünkt, so mööt Hexen utseen, grulich! Se hett man een Oog, aver dat is hitt un scharp as de Sünn in de Hundsdagen, un wenn se fründlich utseen will un lachen deit, denn maakt se en Gesicht, dat Kinner bang maken mutt. Müch woll weten, wosaken en Oog so scharp un drang un en Gesicht so gresig krükelig un wunnerlich warrt.«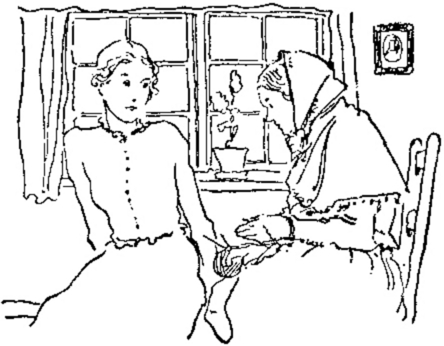 »Op en ool Gesicht steit veel schreben, wat junge Ogen ni lesen köönt, Kind«, see Doortjn eernst. »Schall ik Di Abel eer Gesicht mal düden? Denn höör nipp to, aver warr ni bang, ik mutt Di wat wisen, wat Dien reinen Ogen noch ni seen hebbt. Wi Minschen kaamt heel ungliek dörch de Welt: de een danzt dar hindörch, de anner draavt un slaavt, bet he sik mit en Gottloff in 't Sarg leggt, de drüdde bedelt un prachert, de veerte fritt un quoost un slampampt, de föffte dröömt un söcht bet an sien Enn, un mennicheen lett sik as en Stück Holt geruig driben darhin, wohin dat Water geit: in Diek un See oder ok in den Attelpool. Abel hett ok mal söcht un dröömt un hööpt, un denn hett se Jaren lang bister gaan un toletzt sik dörch de Welt slaan un darbi dat Oog un dat rechte Lachen verlaren. – Se is von mien Öller, un wi hebbt tosamen in Galand op de Schoolbank seten, ik en arm Snidersdochter, se dat Kind von den Buurvaagt.«
»Abel en Buurdochter?« froog Maria verwunnert.
»Jawoll, un watt för een!« Doortjn schenk wedder in un schrökel denn na eren Koffer un neem ut de Bilaad en lütt Packen. »Hier is en Bild von eer ut de Tiet – dat hett se mi in Verwaren geben, se much 't ni meer anseen, as se see!«
»Oh! so 'n schöön Gesicht heff ik noch miendaag ni seen!« reep Maria. »Haar as Gold un Ogen so blau as de Heben!«
»Munster eer man na alle Kanten, se is ümmer smuck! Un darbi weer se garni narrsch un stolt un hoochnesig; as se domals maalt warrn schull, müß de Vader half Gewalt doon, dat se man still seet.«
»So 'n Bild weer woll heel düür?« froog Maria.
»Nee, en paar Speetschdalers. De Maler weer en Mann ut Sleeswig, de sik op sien egen Hand, as man vertell, in düsse Kunst rinstudeert harr, mag ok woll hier un dar bi en Meister wat opsammelt hebben. He gung dörch Land un Stadt, un wo he Arbeit funn, funn he ok en Kamer för de Nacht, Eten un Drinken un sien ringen Loon. Dat Bild is smuck, aber dat vertellt uns doch man half, wat Abel egentlich weer: groot un stark, mit vollen Bossen un fasten runden Arm, flaßgele Haar un so lang, dat se an de Eer ringeln, wenn se op 'n Stool seet un eer utkämm; de Ogen groot un blank, darbi fine Hutt un rode Backen, voller Leben un Lachen un Övermoot! Wo stark se weer, darvon will ik Di mal en Spaaß vertellen. In 't Fröjaar bi de Törfarbeit hebbt de jungen Lüüd hier to Lann en häßlich Spill vör, se nöömt dat Fleten, wat so veel bedüden deit as to Ader laten. Dat hett al mennich Deern dull maakt un to 'n Wenen brächt, aver wat schall so 'n arm Ding opstellen gegen en paar starke Keerls? In de hillste Tiet müß Abel mat mit uthölpen, un as de Middagsstunn kommt, sett se sik in den Schadden von en groten Törfhümpel un slöppt in. Nu is 't Tiet! denkt de jungen Bengels un sliekt sik ran; aver knapp hebbt se eer Hannen anfaat, üm eer fasttoholen, is se ok al hooch, un mit en füürroden Kopp kransheistert se de beiden Keerls in de Moorkuul rin, dat eer sülben de Sprütten un Palschen üm de Oren fleegt. Pudelnatt ampelt sik de beiden an 't Över ran, aver de rutkrupen will, kriggt links un rechts wat an de Oren un warrt wedder rinstött; düt duurt so lang, bet se sik wedder losbedelt.
Op so 'n Aart kunnen eer de Mannslüüd nix anhebben, aver se keem op en annern Weg heel slimm to Fall. – Eer Vader wull geern, se schull Navers Söön heiraten, denn keem se goot to sitten. De junge Mann weer eenzig Kind, de Oogappel von sien Öllern, en beetjen lies un lurig, aver sünst en goden Jung, mennicheen harr sik freut to de schöne Partie. Aver Abel wull nix von em weten un schoov em af. »Is mi to fruunshaftig!« weer eer Woort, un darbi bleev se.
In de Tiet will mal de Tofall, dat Abel in Nimünster, graad as se forsch üm en Strateneck böögt, mit en jungen Herrn tosamen stöten deit, so dat beide to Fall kaamt. Schaden harrn se ni leden, un dat beetjen Weedaag waar ni reekt, besunners as se wies waarn, dat se sik an en heel schier Gesicht reben harrn. De junge Mann gifft eer de Hand un seggt heel fründlich op hoochdüütsch: se schall em dat ni nadregen, he harr eer veel lever en Kuß as en Knuff geben. Abel warrt överher root un geit af. As se sik na en Wiel mal ümkiekt, steit he noch dar un süüt eer na – en staatschen Mann mit swarte Haar un en krusen Baart, slank und hooch, darbi fast un stark as Eschenholt, se föölt noch sien Hand.
Von den Dag an weert 't mit Abel ni richtig, se weer so still un noch meer as sünst kort anbunnen, wenn man eer to neeg keem. Se bemött em nu oft in de Stadt, an Sünndagen vör de Karkendöör, op de Straat, bi Danz un Gelag sogar – he säch eer op, wo he eer man finnen kunn. Meermal waar se vör em waarschuut, eer waar seggt, he weer wiet över eren Stand rut, weer stolt un vörneem, se glööv doch woll unmööglich, dat he en arm Buurdeern heiraten dee. Allens vergeevs! Abel weer as behext, as en Fisch in 't Nett, se kunn un wull ok sach ni meer wiken.
De Lüüd harrn woll ganz recht, wenn se Abel bang maken wullen. De junge Herr weer lang baben in Düütschland op Scholen west, as man see, un harr sinen Vader, de körtlich mit Dood afgaan weer, unverschaamt veel Geld kost. Nu harr he grote Göder in 't Oldenburgsche un weer hier man to Besöök bi den lustigen Herr von Döpel op Klaushof, mit den he in Jena studeert oder, wat woll richtiger weer, nich studeert harr. So 'n Mann, dat müß Abel sik sülben seggen, paß ni för eer: he von Adel, fien un gebildt, en groten, riken Mann, de mit Grafen un Baroons ümgung; se in sien Ogen en arme Deern, de in de vörneme Gesellschaft sik ni to kanten un to keren wüß un sik schamen müß, wenn se in de grote Welt optreden un den Mund apen doon schull. – Aver de Leev is as de Wien: se maakt Kopp un Hart duun un düsig, so dat sik dat ni meer stüren lett. Abel wull 't nich inseen, wat Öllern un gode Frünnen eer raden deen, un as de Vader Gewalt bruken wull, waar se ganz balstürig un vergeet, wat se eer Öllern un sik sülben schüllig weer.
Op 'n mal waar vertellt: Abel Lahann is weg un narms to finnen! Dat geev en groten Opstand in Dörp. Eerst glööv man, se harr sik wat andaan; alle Löcker un Leemkulen waarn afsöcht, in Stadt un Land waar fraagt, ob eer nüms seen harr – allens ümsünst!
Eer arme stille Moder brook dat Hart, eer Vader waar noch swiegsamer un harder as vorher. He harr meer Kinner, aver Abel weer sien best Peerd in 'n Stall, as he mal fröer in en lustige Luun seggt harr. Un as en Vierteljaar naher tuschelt waar, Abel weer bi den Friherr in 't Oldenborgsche, do böög sik sien starke Nack deep dal un de Kopp waar em nüsselig, he waar kindsch un müß sinen Hoff an den Söön afgeben. – Wat hest Du, Maria? Du best jo alle Klöör verlaren!«
»O nix!« reep Maria, denn froog se hastig: »Un Abel weer bi den Friherrn – as wat?«
»Nich as sien Fru, mien Dochter, he nööm eer sien Fründin.«
Maria duuk sik, as man woll deit, wenn uns op 'n mal en hellen Blitz över 'n Kopp oplüchen deit. Doortjn seeg dar see aver nix, se vertell wider.
»En Jarer dre, veer is Abel bi em bleben – de eer kenn, kunn 't ni begripen. Eerst heel he eer mit söten Snack hin, denn sett he eer utenanner, dat he eer hartensgeern heiraten wull, aver nu noch ni kunn von wegen en olen Arvonkel, de em seker ut sien Testament striken waar, wenn he en eenfache Buurdeern frien dee. Eerst weer se bestörrt, verbaast un den Mann bitterböös, de eer, as se sik inbill, belagen un bedragen harr, aver se bleev dar...«
»Bleev dar!« see Maria as in Droom.
»Vader un Moder harr se verraten un weer düssen Mann nalopen, de Schann harr se weg un waar eer ni wedder los, wo se ok hingung. So dach se. Aver se drung darop, dat de Saak en anstännigen Naam kreeg – he maak eer to 'n Huusholersch op en groten Meierhoff, de Lüüd müssen eer Kommando respektieren un nömen eer Fräulein; he geev eer en heel hogen Loon, wo se de Daam mit spelen kunn, behung eer mit Gold un Parlen un siden Kleder, maak eer een Geschenk na 't anner, besöch eer veel, gung mit eer spazeren un neem eer gar mit op Reisen. En olen Professer keem de Week en paarmal ut 'e Stadt un geev eer Stunn in Hoochdüütsch un Franzöösch. So harr Abel dat wullt, un de Friherr dee allens, üm eer man tofreden to maken un to begöschen. Dat duur ni lang, do weer Abel dar, wo se afsluuts ni harr hin wullt. Un so leev se en paar Jaar in 'n Dag rin, as in Droom; waar se mal halt waak un stegen gruliche Gedanken op, denn wüß he eer dörch Lögen, säten Snack, en lütte Reis wedder intodruseln.
So gung de Tiet, se weer glücklich un tofreden op eer Aart, much ok ümmer in stillen höpen op de Hochtiet, de he eer in Utsicht stellt harr.
Do kriggt se mal, as he op länger verreist is, ut Berlin en Breef, de eer op 't Krankenlager smiten deit. He hett en junge vörneme Bruut, en schöne Grafendochter – se kann afkamen. He bütt eer Geld, en Mann – sinen smucken Kutscher...«
En lies Wimmern keem ut 'n Löönstool, un as Doortjn mal opseeg, seet Maria dar dodenbleek un wrung de Hannen.
»Oh mien Dochter!« reep de ool Fru un faat er bi de Hand, »ik heff Di woll to veel totruut, Du kannst sowat ni hören, ik will opholen...«
»Nee, nee, Doortjn Holm, man wider, man wider!« Maria dwung sik un sett de Nadel wedder in Bewegung, aver de lütten Hannen bevern.
Doortjn töger noch. »Laat uns mal rut gaan na'n Gaarn, buten warrt Di beter tomoot.«
»Nee, nee, Doortjn!« reep Maria fründlich un wisch darbi en Traan von de Back, »ik wull doch geern dat Enn hören.«
»Dat is trurig, Kind! Abel smeet em sien Geld vör de Fööt, un de Kutscher, de woll von sinen Herrn en Wink kregen harr, maak en slimme Reis, as he wagen dee, Abel neger to kamen. Weer de Friherr dar west oder bald to Huus kamen, so harr 't sach en groot Unglück geben, aver he maak Hochtiet in Berlin un gung för en lange Tiet op Reisen.
Abel trock eer siden Kleder ut un gung – wohin, wüß keen Minsch. Jaarnlang weer se verstaben, un ik höör garnix meer von eer, ok nich, wat de Lüüd in Galand un Nimünster tuscheln un munkeln deen, denn mien Jörn haal mi domals na Ilenbeck.
Na Jaren seet ik mal an en Sünndagmorgen vör de Huuspostill un lees luut vör; mien Anna, en Deern von en Jarer sößtein, huuk op 'n Schemel un schraap de eersten jungen Kantüffeln, mien Mann weer to Kark. Do kloppt en Finger an de Döör, un herin kommt en öllerhafte Fru mit en Bündel ünner'n Arm. Se geev mi un mien Dochter de Hand, böög sik denn över 't Book un froog: »Wat hebbt wi för 'n Evangeeln vondaag, Doortjn?« Ik verfeer mi, denn ik kenn eer nich un eer Gesicht maak bi bang. Von 't grote Abendmaal, see ik. »Denn liß man wider, ik heff lang keen Predigt höört.« De Fru harr en Aart to spreken, dat ik nich anners kunn. Se seet denn nu mit foolte Hannen ganz still in Jörn sinen Löönstool. As se aver höör, dat uns' Herrgott sik ganz besunners ümsüüt na de arm verraten und verlaren Minschen un eer inladen deit to sien Himmelriek, do fullen eer de blanken Tranen in den Schoot, un as ik Amen see, huuk se dar, dat Gesicht in beide Hannen.
Ik schick mien Dochter rut na Köök un frog eer denn, wat se wull un wer se weer. Du leve Gott, wat heff ik mi in de Stunn vertellen laten müßt! Vör mi seet Abel Lahann un bich mi eer verlaren Leben. Ik müß eer ümmer wedder anseen un mi fragen: Kann 't angaan? is dat de Roos von Galand? kunn de so wiet rünner kamen? As wenn se mi de Fragen an de Ogen afseen harr, see se: »So hett mi dat gaan: eerst langsam bargdaal, denn keem ik in 't Nüsseln un Lopen, keem mi sülben ut 'e Gewalt, un mi is bang, dat is noch ni ganz vörbi. En Minsch in minen Tostand is in en depen Döpel, wo he ni rut kamen kann: wenn he een Foot loswruckt, sackt de anner üm so deper, un de Arbeit geit von vörn wedder an. Ik klopp bi minen Broder an, de wies mi von de Döör, nu kaam ik to Di. Von all de Speel- un Schoolkameraden büst Du de eenzigst, de mi wedder infullen is. Du weerst ümmer goot un heelst veel von mi, wenn ik mi ok ni veel na Di umseeg. Segg, Doortjn, kannst Du mi bi Di opnemen?« Ik verschraak mi, see aver na en lütt Besinnen: dat kunn un wull ik nich wegen mien Kind, aver se schull man bliben, bet mien Mann kamen dee.
Ach, mien selig Jörn weer so hartensgoot! Ik harr man blot en Woort seggen kunnt, so harr he eer opnamen, aver sowat full mi nich in. Wi bröchen eer ünner in den olen Wraag sien Kaat, verschaffen eer en Bett un enige Möbel un holpen eer to Arbeit.
Aver Abel schull uns noch veel Verdruß maken. Bald kregen de Lüüd allerlei över eer to hören, to 'n Deel weer 't ni waar oder verdreit, aver ni slimmer as de Waarheit. Se fungen an to stickeln, to brüden un to fragen, dat Abel opmarksam warrn müß. Dat Enn von 't Leed weer, dat nüms dat herlopen Minsch in Arbeit hebben wull – de Schann weer eer nakrapen un neem eer nu dat Brot ut de Hand.
Mennicheen harr sach to Water gaan oder weer in de wide Welt lopen, aver Abel dach anners: se see dat Dörp den Krieg an. As se keen Hüür meer finnen kunn, waar se sik enig mit en Weetmann, de en egen Kaat harr, den föör se sien Huusholen. Se weer sik as en Katt gegen de Hunnen, un de sik mit eer haken dee, keem sluukorig un mit en blödige Nees to Huus. De Buurvaagt flöök op Dood un Deuvel, dat Minsch schull em ut 'n Dörp rut oder he wull gaan – he gung, denn se fören em kort darop na 'n Karkhoff, un Abel bleev. Dat nütz nix, dat man dat looshannig Volk in Dörp op eer loshissen dee, Abel wüß den ganzen Swarm to kransheistern, dat toletzt nüms meer op eer dal wull.
Un dat harr sin gode Uursaak. In en Dörp geit allerlei üm, wat dat helle Daagslicht ni verdregen kann. Abel kunkeluur överall mit eer scharpen Ogen rüm, un wat se funn, hung se mit Lachen op 'n Tunn to 'n Spitakel för alle Welt. Op düsse Aart bröch se de Lüüd so wiet, dat se bang vör eer weren as vör en slaan Peerd un jo allens deen, üm eer to Frünn to holen. De een bröch eer düt un de anner dat: Eten, Törf, Holt, en Stück Fleesch von 't Slachten un Gott weet wat all, un wenn Abel nix in de Kaat harr, gung se to Dörp un haal sik wat. Noot wull se ni liden, see se, un wenn de Lüüd eer keen Arbeit geben wullen, denn müssen se eer ümsünst fodern. Eer Weetmann storv, se funn en annern; se verloor en Oog un waar darbi sterbenskrank, aver se waar wedder beter un seeg, as 't schien, noch scharper as fröer.«
»Op wat für 'n Aart verloor se dat Oog?« froog Maria.
»Dat will ik Di lever ni vertellen, mien Dochter – op en ruge Aart, dat mag Di noog ween. Ik bee eer mal, se schull hier doch weggaan, darmit de Larm opheel. »Fallt mi garnich in!« reep se, »denn kann ik op en anner Stell von vörn wedder anfangen. Ik heff de Ilenbecker wiest, dat man Stickeln un Netteln mit Hanschen anfaten mutt, nu laat se mi sach tofreden.« Un dat deen se toletzt würklich, Abel bleev hier behangen, un lütt un groot stüür darto, dat se to leben harr.
Un nu wies Abel ok eer gode Siet. Mennich harde Hand hett se apen maakt, mitto mit Gewalt, wenn op eer Naverschop bi lütte Lüüd de Hunger anklopp. Eer paar Frünnen holp se mit eer Hannen, wo se kunn, denn weer eer keen Gang to wiet un keen Arbeit to swaar. An besten weer Abel toweeg, wenn 't mal ganz bunt hergung, so bi Anton Timmermann sien Hochtied, wo he den Verstand verloor, bi Ehler Schoof, de Fru un Kinner dörch en gruliche Halskrankheit in veertein Daag verleren dee, un bi dat groot Füür, wo de meisten Lüüd den Kopp verlaren harrn. Denn geev se an, wat dar daan warrn müß, un kreeg oolt un jung in Arbeit. Schaad, dat se nich en Keerl waarn is, denn weer se ok sach ni so wiet rünner kamen. Noot un Schann hebbt eer klook un drook maakt, aver wat markwürdig is: se is ni vergritzt un vergrillt un hett sik in all den Larm en warm Hart bewaart. Dat harr ünner hunnert nich een klaar kregen! Se hett in eer lang Leben sik mit Schuld un Schann belaadt un mennich Unrecht daan, aver wo nu Recht un Unschuld ünner de Fööt kaamt, dar raut se nich, bet se eer rutbellt un -beten hett. Sü, darüm hool ik dochen veel von eer un müch geern, dat Du eer mal opsöken deest.«
»Worüm, Doortjn Holm, höör ik to eer?« Ut de Stimm klung en lies Bevern.
»Wat en Fraag, Maria! Abel hollt veel von Di – is dat denn so 'n grote Mö, sik mal ümtoseen na en Hart, dat för Di warm föölt un in stillen sorgt?«
Maria seeg Doortjn mal rasch un fraagwies an, see aver nix darto. Se neem eer Neitüüch tosamen un stunn op. »Ik mutt gaan, Doortjn Holm, mien Tante weet garnich, wo ik bleben bün. Grööt Se ool Abel veelmal, – Se schall velen Dank hebben!« Se geev eer de Hand un gung rasch ut de Döör.
Doortjn keek eer na, so lang se wat von eer seen kunn un mummel vör sik hin: »Vellicht harr ik 't ni doon schullt, se weer so bestörrt – nee, düsse Ogen! Sünst so fraam un drömerig, un op 'n mal waak un opmarksam. Un as se opstunn, keem se mi höger vör – dar geit se hin stolt un seker, bina en Schritt as Tante Maren! ›Se schall velen Dank hebben‹ – hm! ik oder Abel? un woför? för den Kaffi oder för mien Vertellen? Nee, de Deern is ganz wat Besunners! Wenn se mi doch eer hart apen doon wull!«
---
<< zurück
weiter >>